From the moment I first saw the animated movie, Oliver & Company (1988; I was 12), it became a favorite of mine. When it was finally made available on DVD, I had to have it. I've watched it with my kids and they love it, too.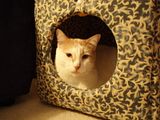 In January 2007, my husband and older daughter went to Petsmart to get more supplies for our hermit crabs...and came home with a 10-month-old kitten whom a local shelter had named "Gabe".

We bonded very quickly & he was immediately renamed, Oliver.

For nearly 8 years, he was our incredibly predictable morning alarm, our lap & foot warmer, hunter of geckos & moths, chaser of toys & treats and connoisseur of tuna.

I knew very early on that Oliver was unwell. Our vet diagnosed feline IBS. We modified his diet and saw amazing improvement. He was nearly symptom-free until a few months ago. He began refusing his wonderful dry food. We switched to wet food, he loved it and his symptoms appeared to subside. I chalked it up to him being a finicky feline.

At the start of this Labor Day weekend, he stopped eating again, and I just somehow knew that this time it was different.

Of course, our vet's office was closed for the long weekend. Through Friday night and Saturday morning, I held onto a shred of hope that he'd rally and prove me wrong. He was still using his litter box, still "talking" to me, still trying to make certain I was okay.

Sunday morning, we all realized he couldn't wait until our vet reopened on Tuesday. I had to work most of the day, unfortunately, but my husband & kids spent the time sitting with Oliver, loving on him and talking to him.

That evening, the wonderful staff at our animal emergency hospital helped him to cross the rainbow bridge. We were able to stay with him the entire time. The doctor and both assistants were so compassionate and gentle. For that, I will be forever grateful.

We brought Oliver home and laid him to rest in the backyard. We plan to make a memorial stone to mark his spot.

The house feels empty. His food and water bowls, his litter box, his bed & toys are all still in their spots. His treats are sitting on the kitchen counter. I keep waiting for him to just appear.

Goodbye sweet Oliver. You were a wonderful addition to the family and we will always remember you.