I'm squeaking in under the wire with my Stitch from Stash update for January. I just started a second job and the days have been flying by!


During the month of January, I managed to finish a big project and work on 2 WsIP from my stash.


As always, click the thumbnail for a larger image. Photobucket's thumbnail images used to be so clear, but now they appear blurred. I hope they fix that soon!


My finish is "just the shoes" from Nora Corbett's Pretty Little Things I, II & III. This will be turned into a pillow for my niece, Lindsay's, Sweet Sixteen. Lindsay loves shoes, and when I realized there were sixteen shoes between the three charts, I knew it was meant to be. I love how it turned out! The fabric you see in the picture will be used for the back of the pillow.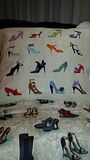 My WsIP for the month include the Over the River Sampler by Carole Rodgers (1998 BH&G Cross-Stitch Christmas magazine) and Dragonfly by Kindred Spirits Designs.My stash purchases for this month were very minimal.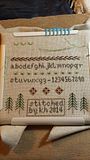 Money spent: $10.74, including tax, for a skein of DMC #5 perle cotton, Chocolate Moose (Designs by Lisa) and "Micro" Minis (an old Sweetheart Tree design card)