What a long day! I left at 9 AM and walked back in the door at 11:30 PM. Outside of wanting something to eat, all I could think was that I needed to post my SFS update! It's times like these when having two jobs really stinks.

Here's the picture of the stitched piece I referenced in my July update. My exchange partner was delighted with it, which of course made me very happy!

Click for a larger image...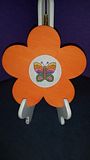 My stash acquisition this month, even with market, is ZERO! I'm rather proud of myself! I didn't get any stitching in, but I did sign up for another exchange and have selected a really cute freebie to stitch. Pictures to come in my September update, since that will be after the exchange mailing date.

Money spent: $0