I can not believe it's been two months since I posted to my blog! Time really does fly!

I'm still here and still stitching. As a matter of fact, I just finished up my third model for San-Man Originals. My first model for Sandy was Snow Curls, which is featured in the Secret Shop. I stitched the second and third models for their upcoming retail debut. I'll share pics as soon as they're released!

In the meantime, I've also completed three exchange/surprise pieces. Here they are!

This lovely dragonfly piece was stitched as a present. I'll reveal more after the present has been delivered...hehe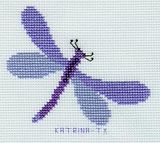 I stitched the design for this teapot ornament (Thanks, Shirl!) for an exchange. The design is adapted from an older issue of Cross Stitch Crazy. I love that magazine!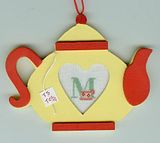 Last, but not least, is my most recent finish. This is another great design from San-Man Originals, inserted into a tuck made by the ever-talented JoAnn. The little label is tie on with DMC floss and some tiny little buttons. It was a true pleasure to stitch!








During the last two months, Steven and I also celebrated our 12th anniversary! We enjoyed a fabulous dinner at The Northwood Inn. The next day, our entire family went to see the movie, Cars. We loved it!

As for the not fun stuff, we're still running the paper route. It has become easier to get up so early, even on very little sleep. Of course, the constant driving seems to have sped up the rate at which our van needs repairs. Since the A/C was finally fixed, we've also redone the brakes and replaced the shocks & struts, air filters & fuel filter. This week, we'll complete the tune-up with replacement of the PCV valve, spark plugs & wires and the serpentine belt. All that's left after that (we hope) is to drain & replace all the transmission fluids and replace the pan gasket seal. So much for the paper route providing a second income, right? To this point, it's all been going to repairs on the van, instead of additional payments on the van. That should change soon, thank goodness!

I'll close for now. My next post will deal more with the fun stuff, like our son's upcoming 9th birthday party! He's having a Luau and it should be loads of fun!