Yes, I'm late again. However, I've been stitching and I've managed to finish three projects. Jar picture first, then I'll talk about my finishes.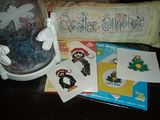 Behind my jar, you can see a sweet pillow. It was sent to me in an exchange a couple years ago. I cannot express how much I love the pillow. It has a place of honor on my desk.

Also in the picture are two of my finishes. They're both free gift kits from old issues of Cross Stitch Crazy magazine. I had them finished, except for the backstitching and then they got "lost" in my stash. I came across them on Tuesday morning and decided they needed to be finished.

I started the penguin many years ago, it was probably one of my earliest projects after I took up stitching again. As I was backstitching it, I saw the uneven tension, loose stitches, horrible thread carries, etc., and just had to laugh at myself. The frog, which was started several years later, is much better. It was actually fun to have the projects next to each other as I worked, as they showed me how much I've grown as a stitcher.

The penguin was originally destined to be a Christmas card for my son; I'm not certain what I'll do with it now. It's small enough to fit into a keychain, I think, so that may be what it ends up as. The frog will be made into a card for my husband, just because he deserves it. He's my prince charming, although he skipped the frog part. (I'd have kissed him either way...he's just that cute!)

My third finish will get its own post, as I'm rather proud of it!

That's it for now!