I hadn't forgotten that there were two TUSAL rounds for July, I simply haven't had the time to post. That's my story and I'm sticking to it.

The project in the picture with my jar is the one that I'd hoped to finish off before it was time to take the picture. It didn't happen (still hasn't), but there are some new ORTs of GAST Raspberry Parfait & Midnight in there.

*Edited to Add: The stitched piece shown in my TUSAL photo is Texas Twirl by Redbird Designs. Lorraine had stopped designing, but recently started up again. As far as I know, she will NOT be re-releasing any of her previous designs, of which, Texas Twirl is one. This saddens me, as I'd love to collect a bunch of hers that I missed the first time around.

Click for a larger image...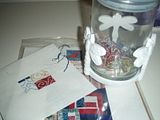 I've also been meaning to share my most recent finish. I made this little pillow (my first!) for an exchange. The stitched design is a free chart from The Victoria Sampler. My soon-to-be 14-year-old son chose the finishing fabric and I think he has a good eye for color/pattern! My partner was very pleased with her pillow and I learned alot about what to do/not do for my next one.

Click for a larger image... (and enjoy the pattern of my ironing board cover!)